Net billing for rooftop solar, which incentivizes the use of battery storage to maximize solar self-consumption, is inefficient, researchers found, whereas incentivizing battery owners to discharge power during peak hours would provide greater value.
https://pv-magazine-usa.com/2022/08/03/battery-storage-operation-under-net-billing-provides-virtually-no-grid-value-berkeley-lab-study/
BMW is hedging its EV bet by investing in Hydrogen power trains as well.
Ten years ago BMW had also hedged its bets by investing in an All-in-one platform called CLAR.
Now, it is investing in a combined battery and hydrogen power, powertrain called Neu Klasse.
Yet with Neue Klasse, it apparently didn't learn from that failure, refusing once again to commit to a single powertrain.
BEVs have beaten hydrogen largely because the electric grid already exists.
Reference: Techcrunch.
Drones bearing parcels deliver big carbon savings
Last-mile delivery by a small drone takes much less energy per parcel than delivery by diesel truck.
A study comparing the environmental impact of various 'last-mile' delivery methods — which take a package on the final leg of its journey — finds that greenhouse-gas emissions per parcel were 84% lower for drones than for diesel trucks. Drones also consumed up to 94% less energy per parcel than did the trucks.
In the United States, freight transportation accounts for more than one-third of transportation-related greenhouse-gas emissions.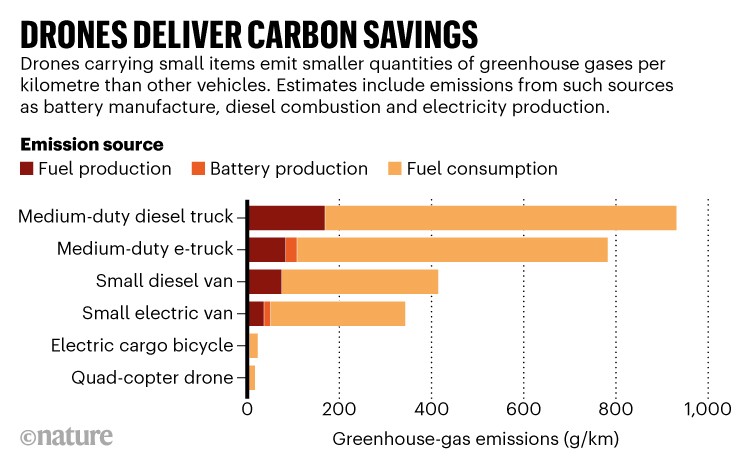 Reference:
https://www.nature.com/articles/d41586-022-02101-3
The US Congress is poised to approve newly expanded tax credits for electric vehicles, but the rules are written in such a way as to effectively disqualify every EV that's currently on the market today.
But the auto industry says that the new requirements would basically disqualify every EV on the market today since most of the batteries are made in China.
Globally, battery production is expected to grow from 95.3GWh in 2020 to 410.5GWh in 2024, according to GlobalData, a data and analytics company.
Reference:
https://www.theverge.com/2022/8/8/23296678/ev-tax-credit-qualify-battery-supply-chain-china
https://www.democrats.senate.gov/imo/media/doc/inflation_reduction_act_of_2022.pdf